Missing and murdered Indigenous Persons is a crisis in the United States and is especially prevalent in Oklahoma. Indigenous women in Oklahoma are at a higher risk of experiencing violence than women of any other race or ethnicity. According to the Urban Indian Health Institute, Oklahoma is ranked 10th in the nation for missing and murdered indigenous women. This is a staggering statistic that highlights the dire situation facing indigenous communities in the state.
MURDER: The third-leading cause of death among American Indian/Alaska Native women.
Indigenous women in Oklahoma often face multiple layers of marginalization and discrimination, which contributes to the high rates of violence. This includes historical trauma, poverty, lack of access to resources and services, and systemic racism. It's these factors that make it difficult for Indigenous women to seek help or receive justice when they have been victimized. The lack of data and resources further exacerbates the problem. Many cases of missing and murdered Indigenous women in Oklahoma go unreported or uninvestigated, leaving families without answers and justice.
5,712 cases of MMIWG (Missing and Murdered Indigenous Women and Girls) were reported in 2016 (nationwide). Only 116 of them were logged into the Department of Justice's database.
It is time to prioritize the safety and well-being of Indigenous persons in Oklahoma and across the United States. This includes addressing the root causes of the crisis, such as systemic racism and discrimination, and providing resources and support to Indigenous communities. It also means holding perpetrators accountable for their actions and ensuring that Indigenous persons receive justice. By raising awareness about this issue and addressing the systemic issues that contribute to it, we can work towards a future where all Indigenous persons can live free from violence and discrimination.
For resources and additional information and support, visit our resource hub at www.ihcrc.org/dvp.
IHCRC Staff wearing red to show support of MMIP(R)(W)(WG):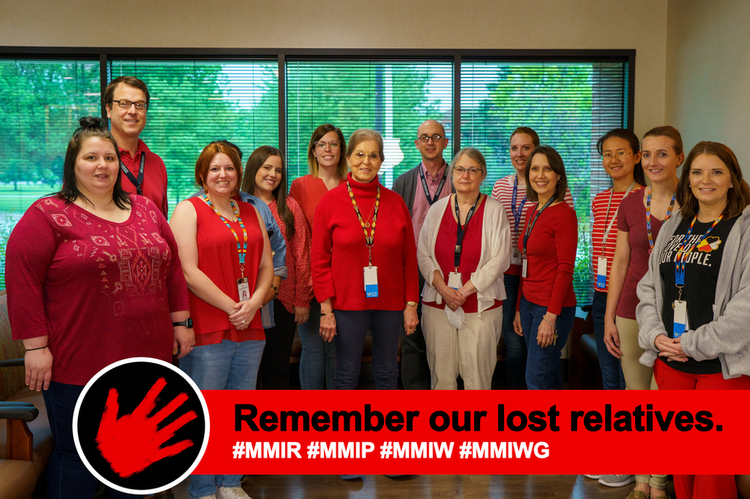 Citation:
Lucchesi, Annita, and Abigail Echo-Hawk. "Missing and Murdered Indigenous Women and Girls: A Snapshot of Data from 71Urban Cities in the United States." Urban Indian Health Institute, 2016.